Archaeologist, artist, poet, musician...the talents of Dr. Patrick Hunt of Stanford University seem boundless and he has applied those talents in a variety of arenas as he strives to share his passion about Rome and the ancient world with people worldwide through his research, his writings, his participation in educational broadcasts, his tours, his illustrations, and his musical compositions.
Current Research:
"Dr. Hunt has directed Stanford's Alpine Archaeology Project since 1994, conducting
high altitude research in the Great St. Bernard pass between Switzerland and Italy. In 1996 he found the 9000 ft. high quarry for the Temple of Jupiter in the Fenetre de Ferret pass adjacent to the Great St. Bernard Pass and has directed a team that found a Roman silver coin hoard in the Swiss Alps in 2003. Another of his research interests has been to track Hannibal who crossed the Alps in 218 BCE with an army accompanied by elephants. He has led annual teams across at least ten Alpine passes in search of topographic clues matching the texts of Polybius and Livy who wrote about Hannibal nearly two millennia ago, including multiple Stanford teams between 1996 and 2006.
Three of Dr. Hunt's lectures about Hannibal can be downloaded from Stanford's
iTunes U
directory.
He has lived in London, Athens and Jerusalem as well as annual time spent in Switzerland, France, Italy every year since 1994, among many other countries, and has also conducted archaeological research in Peru on Inca sites and on Olmec, Maya and Aztec cultures in Central America.
Dr. Hunt has been published on such diverse topics as monuments like the Pantheon, ancient notables such as Gyges from Herodotus, linguistics, biblical studies, the origin of Byzantine Silk, studies in Hebrew poetry and literary wordplay, Roman monuments in operas, calendrical megaliths, Olmec and Maya sculpture, iconography on Greek vases and myth palindromes, nautical exploration, art history, Egyptian stone working and Phoenician lore and geoarchaeology among many other topics.
His academic publications include many journal and encyclopedia entries in peer-reviewed articles such as
WORLD ARCHAEOLOGY
(1989),
BULLETIN OF THE INSTITUTE OF CLASSICAL STUDIES
(1988),
PAPERS OF THE INSTITUTE OF ARCHAEOLOGY, LONDON
(1990),
STUDIA PHOENICIA
(1991),
BEITRAGE FUR ERFORSCHUNG DES ALTEN TESTAMENTS
(1992 & 1996),
JOURNAL OF ROMAN ARCHAEOLOGY
(1998),
VOLCANOES, EARTHQUAKES AND ARCHAEOLOGY
published by the Royal Geological Society (2000),
ACTA
of the XIIIth International Bronze Congress at Harvard University (2003),
ENCYCLOPEDIA OF THE ANCIENT WORLD
(2003) and
GREAT EVENTS IN WORLD HISTORY
(2004). He has been a Fellow of the Royal Geographical Society since 1989, named in
WHO'S WHO IN BIBLICAL STUDIES AND ARCHAEOLOGY
(1993) and he has also served as President of the Archaeological Institute of America's Stanford Society since 1995. Patrick's primary archaeology book of 2007 is titled
ALPINE ARCHAEOLOGY." -
-
Patrick Hunt.net
Many of Dr. Hunt's articles are featured on the website, "Philolog: Classical connections - commentary and critique", a rich resource for art historians, students and all lovers of classical art. His articles including "Arborisms in Ovid's Baucis and Philemon from Metamorphoses" are cited by the Cambridge School Classics Project in their efforts to promote classical studies. An excerpt:
"Perhaps to intensify the transformation of the two old people whose theoxeny - hospitality to their anonymous divine guests (Jupiter and Mercury) - is unique, Ovid fashions and foreshadows their future nature as trees by filling his poetic text with at least 30 references to wood or forest plants. This is a brief catalog of Ovid's passage with possible arboreal interpretations and allusions.
First, Ovid has his narrator (Lelex) tell about what he has seen growing side by side in the Phrygian hills, long after the transformation in their anonymous almost endless life as the yet-unnamed Baucis and Philemon are an oak (quercus) and linden (tilia) tree intertwined (tiliae contermina quercus 8.620).
Second, Philemon welcomes the gods to enter the poor couple's forest hovel – whose roof is reeds and stalks of straw (stipulis et canna 8.630) - by way of a [wooden] gabled doorpost (vertice postes 8.638) (1). Baucis pulls off dry twigs and stems (ramaliaque arida 8.644) from the thatched roof as tinder for the meal's fire. Then, using a forked stick (furca…bicornis 8.646) Philemon unhooks dried meat from a blackened wooden beam (nigro…tigno 8.648) and also unfastens a beech wood tub (alveus…fagineus 8.652-3) tub for bathing limbs.(2) Baucis sets up a couch of willow (salignus 8.656) and a wooden table for the fare. The mattress for the gods' couch is also of soft sedge plants (molli…ulva 8.655). On the one hand, Ovid is accentuating their poverty, as Due mentioned - "praise of the poor but honest simplicity"(3) - so that all their furniture, old and battered, and all household accoutrements mentioned are of wood, hardly surprising given their meager resources, but the wood references are unnecessarily ubiquitous unless Ovid is creating an extended metaphor... More.
Dr. Hunt has been featured on The History Channel in one of my favorite series, "Engineering An Empire: Carthage" and "Engineering an Empire: "The Persians". His research on Hannibal's passage through the Alps will be featured in an upcoming program on The National Geographic Channel.
As a musician and composer, he has been awarded the ASCAPlus Award for Classical and concert music composed and performed in both 2007 and 2008, including several premiere arias from his opera
BYRON IN GREECE

.
Among many classical music works, he has written piano, choral and chamber music and is a Full Writer member of
ASCAP
since 1980 when some of his choral songs were published along with a movie score he composed. In 1999, a Duke University musical group performed his
SONGS OF EXILE: By the Rivers of Babylon
in Washington, DC, Raleigh and at Duke. He also set William Blake poems to choral music that was performed at Stanford in February, 2005.
"Dr. Hunt illustrated Richard Martin's MYTHS OF THE ANCIENT GREEKS (New American Library-Penguin, 2003) and has illustrated his newest book of poems, HOUSE OF THE MUSE: Poems from the British Museum, newly published in the summer of 2005. His many poetry publications include poems in YOUNG AMERICAN POETS (1978), POET LORE (1978) and CLASSICAL OUTLOOK (1991). He is also translating Greek poets like Sappho and encyclopedists like Theophrastus.

Along with monographs, novellas, and other writing, Dr. Hunt wrote CARAVAGGIO, an art historical biography and critical book on the Baroque genius painter, published in London in 2004. It has been highly acclaimed in reviews including the ART NEWSPAPER International in London (December 2004) where it was described as "first-class" and "a rattling good yarn." -- Patrick Hunt.net
He was invited to the Sun Valley Writers' Conference in August, 2005, where he presented Myths Deeper Truths."

"Mythology is one of the deepest creative responses of humanity to the search for universals," Dr. Hunt observes, " Each great myth is often so profound and rich in mystery as to have not one but many possible meanings that are rediscovered and savored at different points in life. It is likely that each human who searches through myth is somehow elevated thereby."

To reintroduce myths to a modern audience Dr. Hunt is rewriting them, adding fictional dialog to the narrative. His retelling of Endymion was well received at the Writer's Conference and will be incorporated into a book due out later this year. An excerpt:
"While waiting for the moon, which would be full this night, Endymion turned and counted the brilliant stars on the other horizon. He looked at the familiar late winter constellations. Orion was already descending to the northwest and only his dogs still ran across the sky. Not far away the dim campfire was now silent as their wine stupefied the other sleeping shepherds. Endymion was sad over his loveless life. He remembered the goddess Artemis was also the moon, and he knew she was a virgin like himself, sworn to protect her chastity. He made a little prayer to the goddess.
"O Goddess of the Lonely Moon, hear my prayer. I know you have chosen your life, but I too am lonely. I ask your help to remain pure to the one I will love lifelong. Help me in my loneliness to wait for her."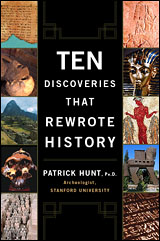 His latest book,
"
Ten Discoveries that Rewrote History
," is due to be released later this month.
"If any global archaeologist were asked to name the top ten archaeological discoveries that have made the greatest impact on archaeology and history, most lists would be likely to unanimously mention the following huge impact discoveries: the Rosetta Stone, Pompeii, Nineveh, Troy, King Tut's Tomb, Machu Picchu, Thera-Akrotiri, the Dead Sea Scrolls, Olduvai Gorge starting with the Leakey Era and the Tomb of the Ten Thousand Warriors in China. This exciting book, written with a taut narrative, relates the dramatic moments of these discoveries, whether by professional archaeologists or by amateurs' accidents, and highlights their significance to history." - Penguin/Plume Publishers.
Contact Information:
phunt@stanford.edu